Ista Co2 Disposable Supply Set Premium I-514 95g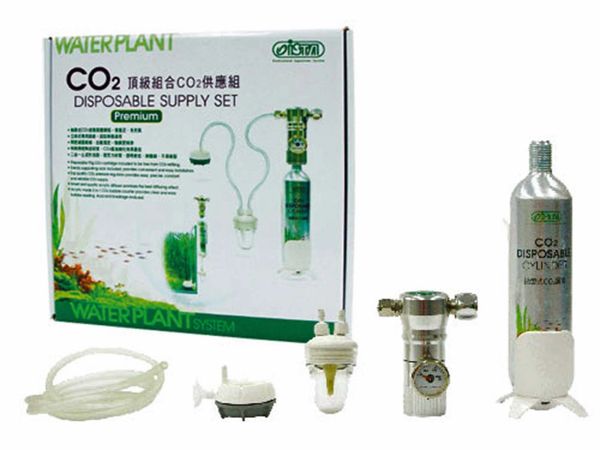 Ista Co2 Disposable Supply Set Premium I-514 95g
ISTA PRODUCT/ WATER PLANT

Disposable CO2 Premium 95g CO2 cartridge set
Disposable CO2 Premium 95g CO2 cartridge set . No more CO2 refilling.
Trendy supporting rack included, provides convenient and easy installation.
Top quality CO2 pressure regulator provides easy, precise, constant and reliable CO2 supply.
Stylish, quality acrylic diffuser assures the best diffusing effect.
Acrylic made 2 in 1 CO2 Bubble Counter for clear and easy bubble count reading. The counter is acid and breakage resistant.
●Contains 95g of pressurized liquid Co2. Full weight assured for the best buy comparing to other existing similar cartridges in the market.
●With strict quality control, quality and safety assured.
●Disposable cartridge stops you from the trouble of Co2 refilling.
●Simple and easy cartridge change.
●Extremely precise needle valve assures accurate and reliable CO2 dosing.
●One stage pressure reduced to provides constant and reliable CO2 dosing.
●With 2 in 1 functions as CO2 bubble counter and check valve.
●CO2 pipe fasten screw nut provided to prevent bursting out of the CO2 pipe
●Spring type check valve provides best function in stopping back flow.
●Acrylic material provides clear and easy bubble reading. Acid and breakage endured.
●A very easy assembling and disassembling for cleaning and water filling.
●Specific ceramic applied to assures most delicate co2 diffusing effect.
● designed with a replaceable diffusing ceramic that ceramic clogging is no longer a problem.
●CO2 pipe can be fastened to the diffuser in a vertical position that it prevents the pipe to be bended to lead to further CO2 blocking.
●Elegant in design yet has the best diffusing effect, place the diffuser in the very bottom of the tank.
●With silicon suction cup to assure best suction function.