Aqua One Moray 320L Internal Filter, 320 l/h 4 Chamber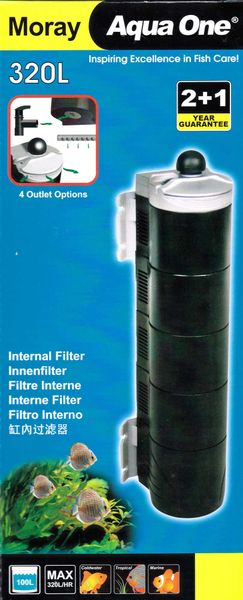 Aqua One Moray 320L Internal Filter, 320 l/h 4 Chamber
Aqua One Moray Internal Filter 320L
The Moray Internal Filter is a quality filter with the flexibility of a canister filter in a compact design. Biological, mechanical and chemical filter media are supplied in interchangeable cartridges giving flexibility to the user. With corner or flat glass mounting options making this filter highly adaptable to any aquarium.
Main Features:
4 Outlet options
Silent running
Adjustable return flow options
Provides mechanical, chemical and biological filtration,
Supplied in interchangeable cartridges
Complete with adjustable suction cups for fixing to side or corner of the aquarium
Moray 320L fits Aquariums up to 150 Litres.
Chambers: 4
Unit Height: 34cm.
Max flow rate:320l/hr.
Wattage:6w
Operating voltage: 240V/50Hz
Cable length 1.6m